CAMPAIGNS - Our Efforts
Our primary vehicle for achieving nonviolent change is to initiate and support campaigns that promote freedom of speech, freedom of the press and freedom of expression. Regardless of geography or nationality, in the West or the East. These freedoms strengthen democracies and democratic movements to ensure power rests with the people and not in the hands of a few. The suppression of freedoms from citizens ' particularly freedom of the press - may be one of the leading factors of global conflict.
The Great Firewall of China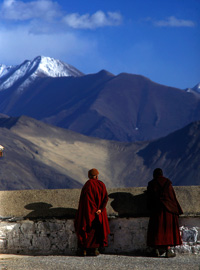 Most countries of the world, including the United States, limit freedoms of expression to various degrees. The extent of China's limitations of citizens' Freedoms of Speech, Press and Religion, however, surpasses almost all other countries. One way that the Chinese government does this is by developing its technology and communications infrastructure to filter and suppress vital information to its people and the development of democracy. This infrastructure is referred to as "The Great Firewall of China." Words like 'Tibet,' 'The Dala Lama,' 'Tiananmen,' 'Human rights,' 'Freedom' and 'Democracy' itself yield highly censored responses on search engines operating in China (including US search engines/blogs/ social networking sites operating in China). Even on U.S. companies' sites, these words may return a message that 'profanity is prohibited'. The internet is being used by China to eliminate any form of dissent among the Chinese populous.
Western companies have been complicit in aiding and abetting the Chinese government's implementation of censorship. Companies such as Google, Yahoo, Microsoft, MySpace, Facebook and Nortel Networks have been exposed for supporting Chinese policies. The technological aid in suppressing freedoms and the tacit legitimacy Western companies' grant the Chinese authorities are an impediment to democracy's flourishing in China.
One hundred and fifty years ago, the Chinese fought the "Opium Wars" with the United Kingdom. Western imperialists, led by the United Kingdom, forced the Chinese to sell the highly addictive and destructive opium drug within China. For the sake of profit & trade, the English violated and stole essential freedoms from the Chinese people by forcing this drug upon them. Many Chinese today remember and reflect on this period of history. By enabling The Great Firewall of China, Western corporations are repeating history by once again profiting from the suppression of the Chinese people today. One day, the Chinese will be free again and they will hold us accountable for our actions.
We support Amnesty International's campaign for requesting that US companies disclose in what ways they are complying with the Chinese Authorities in suppressing freedoms. We ask if you would add your name to this campaign by clicking here: Amnesty International Corporate Disclosures
For more background information, Please visit Amnesty International at: Amnesty International
To learn more about the political situation in Tibet please visit www.SaveTibet.org.